Tampa Facelift at Elite Facial Plastic Surgery
At Elite Facial Plastic Surgery in Tampa, our facelifts are designed to minimize downtime and achieve beautiful, natural-looking, long-lasting results. Founder and double board-certified plastic surgeon, Dr. Dominic Castellano, has helped countless facelift patients restore their youthful appearance and gain their confidence back. Because facelifts are meant to improve the common signs of aging, facelifts involve removing excess skin and tightening facial tissue. At Elite, our facelift surgery team of talented professionals is well versed in improving the appearance of one's facial features to make them look younger. If you are located in Tampa Bay, Florida, and are looking for a quality facelift surgeon, you've come to the right place. Our facelift surgeons are eager to help you look your best. Contact our office today at 813-547-6992 to schedule a consultation.
What is a Facelift?
Are you considering a facelift in Tampa, FL? It will be worth your while to know the basics of what your facelift procedure will entail. Here is what you should know about what precisely a facelift is.
Understanding What a Facelift is
A facelift, also known as a rhytidectomy, is a surgical facelift procedure that involves lifting and tightening the face. A facelift focuses on the bottom ⅔ of the face and neck and is meant to improve and reverse signs of aging It's important to point out that facelifts do not include brow lifts or eye lifts, a common misconception. However, brow and eye lifts can be performed simultaneously as your facelift procedure if discussed with your facelift surgeon beforehand.
Why Have a Facelift in Tampa?
Facelift Tampa patients have facelift surgeries to improve signs of aging, such as:
Wrinkles
Saggy skin on the face/neck
Folds of skin on the cheeks
Folds on the jawline
Other changes in the shape of one's face that have been brought on by age
Elite's facelift Tampa team can improve any of the signs of aging listed above. Call our office today at 813-547-6692 to learn more about how we can help.
Conditions That a Facelift Can Fix
In addition to restoring a person's confidence, facelifts can drastically improve certain conditions, including:
Jowling
This term is used to describe sagging skin below one's jawline or chin. Jowling is caused by age and happens because the skin loses its elasticity over time. People often turn to facelifts to improve this condition if their skin has started to sag at an early age; this can be caused by genes, lifestyle choices, and even environmental factors.
Marionette Lines
Marionette lines are wrinkles that appear around the jaw and mouth, resembling a marionette puppet. Age causes marionette lines since the skin often begins to lose proteins like collagen and elastin over time.
Dropped Cheeks
Like marionette lines, dropped cheeks are caused by a lack of collagen and elastin in the skin. It's common for cheeks to lose firmness and begin to sag, making a facelift extremely beneficial.
Lose Neck/Vertical Bands
The muscle in the neck can begin to deteriorate as one ages and can cause the neck's skin to hang. People that are experiencing this condition can significantly benefit from a facelift to make the skin on their neck tighter.
Is it the Right Time For a Facelift in Tampa?
It's common for people to be unsure whether or not a facelift is right for them. Some people may want to appear younger, however, they may be unsure if now is the right time or not. Does this sound familiar? Here are some points to help you decide whether or not now is the right time to get a facelift.
Reverse the Signs of Aging
Because age is the number one reason that people choose to get a facelift in Tampa, people in their 50's and 60's are typically the ones getting facelifts; this is because skin sags as one ages.
The Sooner the Better
Within reason, the phrase, "the sooner, the better" applies to getting a facelift. Adults who notice their skin sagging early on should consider getting a facelift to prevent further sagging. Likewise, adults who are proactive when it comes to getting a facelift will preserve their youthful appearance before the need for a facelift is imperative. Adults of all ages can get a facelift, even adults as young as 20. However, it's important to point out that adults in their 20's and 30's should talk to a professional about the potential risks of having a facelift done too early. For example, your body and shape may change as you become middle-aged or if you become pregnant.
Why Choose Dr. Dominic Castellano?
Located in Tampa, FL, Dr. Dominic Castellano is an outstanding choice when it comes to facelift surgeons. Dr. Castellano has dedicated his entire career to reconstructive surgeries of the face and neck to improve his patients' lives.
Double Board-Certified Facial Plastic Surgeon
Dr. Castellano is double board-certified. Not only is Dr. Castellano a board-certified facial plastic surgeon, but he is also a board-certified otolaryngologist head-neck surgeon. Dr. Castellano's rare double board-certifications make him a unique and extremely knowledgeable plastic surgeon in Florida.
Extensive Experience
In addition to being double board-certified, Dr. Castellano has helped thousands of patients achieve their desired appearance. Dr. Castellano has worked with clients from all over the country and has helped them feel more comfortable and confident in their skin. With his vast experience with different procedures and patients, Dr. Castellano is an expert in his work line.
The Comfort of Surgery in Our Office
One of the things that set Elite apart from other plastic surgeons is that our team can perform most procedures in our own office. In-house procedures make the surgery more accessible, more convenient, and for most clients, more comfortable.
Can Meet Broad Range of Aesthetic Goals
Whether you are looking to improve wrinkles around your jaw or your face and neck's overall elasticity, Dr. Castellano and his team can help. At Elite, our team can meet a broad range of aesthetic goals to help clients feel comfortable and confident. Talk to our team today to let us know what you are looking for, and we promise to do all that we can to give you the results you are looking for.
Will Set Realistic and Honest Expectations
At Elite, we pride ourselves on providing realistic and honest expectations to our clients. Not only can we answer all of your questions, but we also promise to do so with your best interest in mind.
How Much Does a Facelift in Tampa Cost?
The average cost of a facelift in Tampa is between $8,000-$9,000. However, facelift surgery cost will likely vary depending on the type of facelift technique that our plastic surgeon uses and the complexities of the procedure. Dr. Castellano will give a more accurate estimate during your initial consultation, explain what's included in the quoted amount, and notify you of any changes to the price.
What is a Mini Facelift?
Mini facelifts aim to reverse the signs of aging to leave people with a more youthful appearance. With a mini facelift, there are generally a smaller number of incisions made on the hairline or behind the ears that allow the doctor to lift and tighten the facial tissue. Mini facelifts in Tampa have increased in popularity because of their quicker recovery time, lower costs, and the high degrees of success. Dr. Castellano is an expert when it comes to performing mini facelifts and has performed countless mini facelifts in Elite's Tampa, FL office. You may be a candidate for a mini facelift in Tampa if you have a minimal amount of excess or sagging skin.
Mini Facelift Cost in Tampa
The cost of a mini facelift in Florida is typically 2 to 3 times less expensive than a full facelift. The procedure can cost anywhere from $3,500 to $8,000 depending on the complexity of your mini facelift. This price often include surgeon fees, anesthesia, and the facility. However, during a consultation you'll receive the most accurate estimate for your mini facelift and to learn what's all included in the price.
What a Facelift Looks Like When Done Correctly
When a facelift is done correctly, the patient's face will appear younger and void of most wrinkles and sagging skin. The skin will also appear to be together, and the patient's look will be overall more contoured.
Doesn't Look Tight or Overdone
Many people worry that a facelift will cause their skin to look too tight, or the facelift will be too overdone. Though this is a valid worry for some, patients that work with Dr. Castellano don't have to worry about this.
Ears Look Natural and Unaltered
Most people don't think about their ears' appearance when they think about a facelift; however, the ears are very much part of the facelift procedure. Some facelifts leave clients with botched ears, referred to as "pixie ears" because their ears end up becoming pointed from the facelift. However, patients that work with Elite in Tampa FL, will not have to worry about this as our staff is experienced in preventing this outcome.
Scars Are Well Concealed
Any scars that come about from the facelift procedure will be well concealed and will not be noticeable. Usually, the reason that people have facelifts is to improve their appearance; therefore, we will do all that we can to make sure that their new appearance is not altered with any potential new scars.
Types of Facelifts
There are various types of facelifts, and depending on the type of results you are looking for, one type of facelift may be more beneficial for you than another. Before deciding on a facelift, talk to your doctor about the kind of facelift that he thinks will be most beneficial for you. Here are the most common kinds of facelifts.
Mini Facelift
A mini facelift is a version of the standard facelift. It is done via small incisions around the hairline to lift the lower half of the face and correct any sagging skin.
MACS Facelift
A MACS facelift, or a minimal access cranial suspension facelift, targets the face's underlying muscular structure and aims to improve facial sagging. Incisions are made at the hairline, and surgeons can correct sagging skin.
SMAS Facelift
A SMAS facelift, or a superficial musculo aponeurotic system facelift, focuses on creating laxity along the lower region of the face and jawline to get rid of jowling, nasolabial folds, and marionette lines.
Facelift Revision
Also referred to as a secondary facelift is a facelift that is performed for the second time. People have facelift revisions if they are not happy with the initial results or want to fix scarring or symmetries caused by the first facelift.
Traditional vs. Modern Facelift Video
What to Expect When Getting a Facelift in Tampa
People feel more comfortable going into any surgery when they know what to expect; this remains true for facelift procedures. Here are some things you should know before getting a facelift and what to expect after your procedure.
One-On-One Consultation
Before you plan your facelift in our Tampa office, you will need to have a one-on-one consultation with your facelift surgeon. At Elite, we offer free first-time consultations where we will discuss the facelift procedure you want to have done, your options, the price range of the facelift, and the recovery. During your one-on-one facelift consultation, it will be beneficial to bring a list of questions to ask your surgeon to ensure all of your inquiries and concerns are addressed. This will guarantee you are getting the results you are looking for.
Types of Incisions
There are two primary types of incisions when it comes to facelifts, which are detailed below.
Traditional Facelift
A traditional facelift incision starts at one's hairline and goes down and around the front of the ears and ends behind the ears on the lower scalp. If the patient is getting the appearance of his or her neck improved, an incision may be made under the chin as well.
Limited Incision
This kind of incision uses shorter incisions around the face and can often be hidden in the hairline and behind the ears. A limited incision is often used when there is only minimal skin sagging.
Types of Anesthesia Used
Twilight anesthesia or IV sedation is the most often used kind of anesthesia used for facelifts. Most plastic surgeons agree that these kinds of anesthesia are the safest option as long as a board-certified anesthesiologist administers them. If you have questions or concerns about the type of anesthesia used for your procedure, don't hesitate to talk to your surgeon.
How Long Does a Facelift Take?
The standard time for a facelift in Tampa is two to four hours, though it may be longer if the patient has multiple procedures done.
Realistic Expectations
In the days following your facelift, you may experience the following:
Bruising
Mild to moderate pain and discomfort
Numbness
Scarring
Though extremely rare, our team makes sure to advise patients to seek medical attiontion if they are experiencing any of the following after their facelift procedure:
Chest pain
Shortness of breath
Irregular heartbeat
Severe pain
Risks
Some risks that patients should be made aware of include:
Hematoma. Hematoma is a collection of blood under the skin that can cause pressure and swelling. This is the most common complication of a facelift procedure, usually occurring within 24 hours of the facelift surgery. Hematoma will require emergency surgery to prevent further complications.
Nerve Injury. Nerve injury is rare after a facelift, though if nerve injury does occur, it can permanently affect one's muscles and face sensations.
Skin and Hair Loss. Some patients experience skin and hair loss that can be fixed with transplants if not repaired on its own.
Risks for Smokers
Patients who smoke are at a significantly higher risk of a complication after a facelift than patients who do not. Specifically, smokers are at risk of hematoma and skin loss.
Rate of Complications
When it comes to complications from facelifts, only 1.8% of patients experience a complication. The most common complications include hematoma (1.1%) and infections (.3%).
Results After a Facelift
After a facelift in Tampa, a patient's incisions will be covered with bandages to prevent swelling and bruising, and a small tube may be placed under the skin or behind the patient's ears. After the face begins to heal, patients should appear younger and should see obvious results.
Before and After Pictures
At Elite, we take immense pride in our work and are proud to show potential clients before and after images of our facelifts. Below are photos of patients that have worked with Dr. Castellano. The following before and after images feature a blepharoplasty, a chin augmentation, a facelift, laser skin resurfacing, and simplicity neck reconstruction.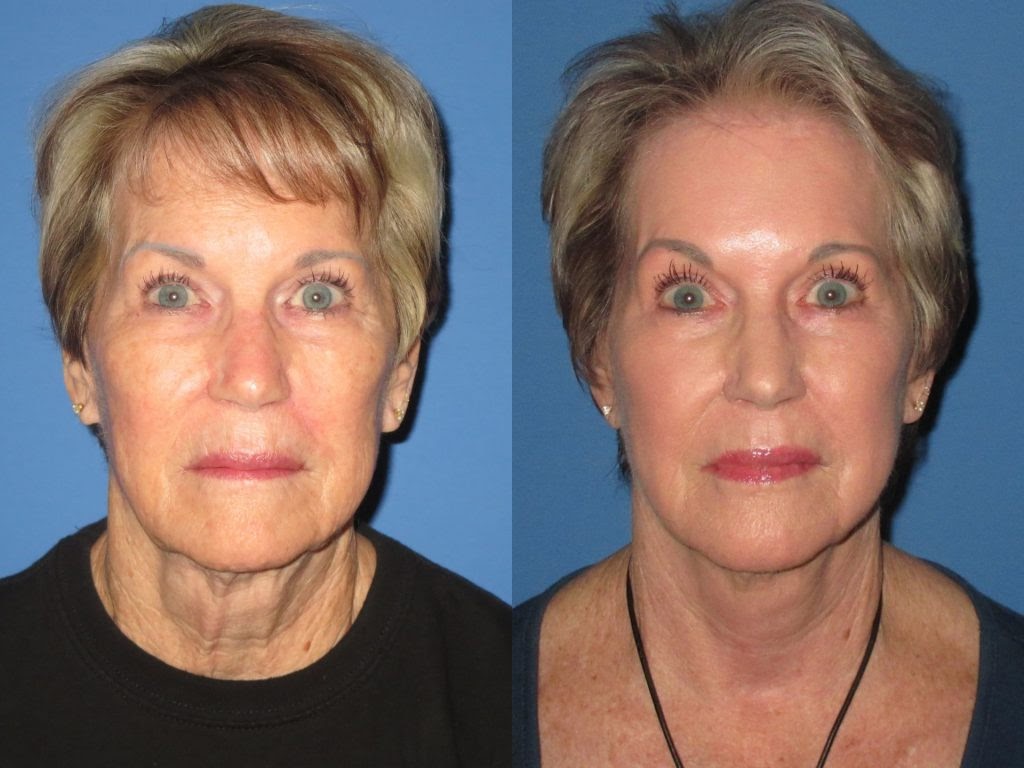 The following before and after images feature a facelift, a neck-lift, a chin implant, and upper and lower eye reconstruction.
The following before and after images feature a facelift and full face laser procedure. 
How Long Does a Facelift Last?
Typically, facelifts last about ten years as long as the patient makes it a point to perform proper self-care to his or her face daily. Though facelifts are not permanent, and skin may begin to sag/droop again, the patient's second facelift may not be as involved as the first one.
Things to Avoid
The following things should be avoided before and immediately after your facelift procedure.
Smoking
The nicotine found in cigarettes will decrease blood flow to the skin and can cause complications.
Certain Medications
Your facelift surgeon  will talk to you about specific medications you should avoid taking before and immediately after your facelift. Generally, blood-thinning medications should be avoided at least two weeks before and after your facelift procedure.
Arranging Transportation
It's imperative that you arrange transportation the day of your facelift and for about 4-5 days afterward. This is because you should only drive when you can safely and comfortably turn your neck again. Additionally, patients should not drive if taking prescription pain medication.
Recovery
Proper recovery after a facelift is necessary in order to begin feeling better and to fully let your body heal. It's recommended that you take it easy and relax for a few days after your surgery. It will also be beneficial to rest with your head elevated and to apply cold packs on your face to ease the pain. Some other recovery pointers to follow include:
Follow instructions given by your surgeon as to what kind of facial washes and shampoos you can use
Take medicine as directed by your surgeon
Do not perform strenuous activities
Avoid makeup
Avoid an ample amount of time in the sun
Avoid coloring hair for at least six weeks
Follow wound care
The 4 Stages of Recovery After a Facelift
Recovery is different for every patient, however, the standard recovery time is two to four weeks. In most cases, bruising and swelling is the worst after two days, and from there, the body begins to recover slowly. Normal daily activities can slowly start to resume after five to ten days after sutures are removed; vigorous activity can resume after four weeks. Stage 1 – Some facelifts will require about seven days of rest in the first stage. This means being confined to bed, sleeping with your head up to ease the swelling, and taking it easy. Follow the instructions from the doctor very carefully are extremely important, especially the incision care routine and the daily dose of any pain medications prescribed. Veg out, relax, and take some time to heal and feel better. Stage 2 – This stage is typically categorized by the period between the end of week one and the end of week two after facelift surgery. Of course Elite Facial Plastic Surgery cuts that time down and gets you back in action a lot quicker. During this time, it's natural to see some bruising or swelling on both sides. Some patients even report tingling, tightness, or strange sensations which is normal. Anything that might scare you, don't hesitate to call the doctor. Stage 3 – Usually around the second week to first month time period, patients enter stage three. Again, at Elite Facial Plastic Surgery, this stage would occur much sooner and you would most likely already be out enjoying yourself. Most activities are open to you again, and you feel good enough to start getting back out there. Stage 4 – After about three weeks it will be very difficult for anyone to tell that you recently had surgery. Of course the effects and the new youthful look with be apparent, but most of the bruising and swelling will be gone, or not at all noticeable to anyone but you. This is the point where you get to go and enjoy your new look.
What Can Speed up Recovery After a Facelift?
It's best to let your body heal naturally and at its own pace to get the best results from your facelift procedure. To do this, patients should follow all of their surgeon's orders and make it a point to practice self-care. Some other ways to ensure a quick and efficient recovery include:
Eat Well to Heal Well
Patients should fuel their bodies with quality foods after their surgery and avoid foods containing copious amounts of added sugar and grease. Furthermore, patients should stay as hydrated as possible.
Facial Massaging
Your surgeon will teach you ways to properly massage your face to ease pain and ensure it is healing the way it should be.
Procedures That Can Be Done in Conjunction With Facelift
Some patients want to have other procedures done simultaneously as their facelift to avoid having to go under the knife two different times. At Elite, Dr. Castellano is skilled at performing multiple procedures at once, including:
Eyelid Surgery
Also called blepharoplasty, eyelid surgery is a type for surgery that fixes sagging eyelids. Eyelid surgery involves removing excess skin, muscle, and fat on the eyelids.
Brow Lift
A brow lift or a forehead lift/rejuvenation raises the brows to improve the forehead and eyes' appearance. Patients that receive brow lifts often are suffering from brow asymmetry or a sagging brow.
Laser Skin Resurfacing
Laser skin resurfacing removes skin layer by layer to reduce wrinkles, scars, and blemishes.
Chemical Peels
Chemical peels are a great way to treat scars, discoloration of the skin, and wrinkles. There are different depths of chemical peels, from light to deep. Deep chemical peels offer more apparent results, whereas light chemical peels offer subtle effects.
Locations We Serve
Dr. Dominic provides facelift procedures in the following areas:
Schedule Your Facelift Tampa Consultation Today
Contact our team today at 813-546-6692. At Elite, our goal is to help you feel comfortable and confident in your skin and give you your desired facial aesthetic. We're dedicated to helping you; call our Tampa, FL, office to schedule your free consultation and plan the cosmetic surgery you dream of.
FAQs
Still wondering whether or not a facelift is right for you? Here are some answers to common questions that may be able to help you decide.
Does a facelift include the eyes and brows?
A facelift does not include the eyes and brows as a facelift focuses on the bottom ⅔ of the face. However, most surgeons, like Elite in Tampa, FL, can also perform an eyelid and brow lift during the same procedure.
How painful is a facelift?
Most patients only describe the first 2-4 days as being painful after their facelift. Patients describe having trouble opening their mouths and feeling itching and shooting pain or numbness. However, these symptoms do not last long at all.
How are complications handled?
Depending on what the complication is, our team will work to help you right away. If our team is unable to provide you with the right kind of care, we will refer you to another medical professional that can.
How much help will I need during my recovery?
You will need as much help as possible for the first two days after your facelift, as these are typically the most painful days for patients. After the initial two days, you will likely only need help when it comes to lifting things and completing vigorous activities. If you are taking prescription painkillers, you will also need help with transportation as you are not allowed to operate a vehicle while using prescription painkillers.
What facelift technique do you recommend?
Every patient is different, as are his/her wants and needs; therefore, our team's technique is different for everyone.  During your consultation, our team will discuss options and make you aware of the method that we think is best for your unique situation.
How can I get and maintain the best results?
To maintain your facelift, be sure to provide the proper self-care such as cleaning wounds properly, changing bandages when needed, and going to all of your follow up appointments. When it comes to maintaining results down the road, be sure to clean your face correctly, avoid smoking, eat nutritious foods, and follow any other instructions given explicitly to you by your surgeon.
Call Elite today at 813-547-6692 to schedule a free consultation and to let us know how we can start helping you.