Looking into getting a rhinoplasty in Tampa?
Are you insecure with the shape of your nose? Do you have a dorsal hump, bulbous tip, or crooked bridge? Elite Facial Plastic Surgery provides rhinoplasty in Tampa to help create symmetry and facial harmony between your nose and the rest of your face.
If you have any nasal deformities or irregularities, these are difficult, if not impossible, to camouflage with make-up or hide as the nose is one of the most prominent facial features. Even if there are no obvious flaws, the size and shape of the nose are key factors that determine facial beauty. We understand how dissatisfaction can lead to low self-esteem and confidence, so we'll work with you to achieve your cosmetic desires.
Our facial plastic surgeon, Dr. Dominic Castellano, is double board-certified in both facial plastic surgery and otolaryngology (head-neck surgery). He has expertise in performing cosmetic, reconstructive surgeries such as rhinoplasty with exceptional outcomes for every client. In 2019 and 2022, Dr. Dominic earned the Top Doc award for facial plastic surgery in Tampa by Tampa Magazine.
If you want a facial plastic surgeon you can trust with your rhinoplasty in Tampa, FL, contact us at Elite Facial Plastic Surgery today.
"I can't believe I walked around with this nose for all of my life until I finally got the courage to call Dr. Dominic. I really didn't think it would make such a dramatic impact. Before the nose job, I would go to extreme lengths to even adjust my face before a family picture so it didn't get my bad side. My nose looks so good now, I don't care what angle the picture is taken from. My confidence is through the roof. I love it. Thank you!"
"I had a wonderful experience here from beginning to end. Everyone on the team goes out of their way to make you feel comfortable. I was very happy with the work Dr. Castellano did for me and felt very supported throughout the healing process. Highly recommended!"
" I am so very pleased with my services from this office. My procedure went smoothly, and I am thrilled with my outcome just 6 weeks out. I know my results will only improve with time.. Don't hesitate to trust Dr Castellano with whatever you might be considering. He is extremely skilled at what he does and you will be in very capable hands. Also a big shout out to his wonderful staff. They will make you feel comfortable and welcome from the first moment you walk through the door."
"Had my rhinoplasty done by Dr. Castellano on October 12th. Pre op was thorough and easy and the day of the procedure went smoothly. The healing process was incredibly easy as well and honestly pain-free. As someone who bruises VERY easily, I was expecting 2 black eyes for several weeks but they never came. I'm not sure what magic he and his team performed for that to happen but I'm super happy about it. I had a very wide point of nasal bone that I wanted gone and at 4 weeks post op it's safe to say it's gone! When I do my make up or look in the mirror I don't think about my nose anymore (I don't even have to contour it to look straight!)"
What Does
Rhinoplasty

Do?
Rhinoplasty is a cosmetic procedure that enhances your appearance by creating a nose that's balanced with the rest of your facial features. Often people think that a nose job is only for those with a large nose, but rhinoplasty surgery can help straighten the bridge or reduce a hump.
Dr. Dominic can lengthen the tip of the nose to help improve the angle between the nose and the upper lip, reduce the size of the nostrils, and more with a rhinoplasty in Tampa. Common benefits of rhinoplasty surgery include the following:
Rhinoplasty results are permanent. Once our facial plastic surgeon corrects the shape of your nose and improves its aesthetic appearance, you can enjoy your new facial beauty indefinitely. You can begin to see these results as soon as the second week post-surgery as the swelling begins to subside.
Dr. Dominic is a rhinoplasty surgeon based in Tampa, Florida, but he also provides rhinoplasty surgeries to clients in the following areas:
Medical Reasons

for Rhinoplasty
While rhinoplasty may be viewed as a largely cosmetic procedure, it also serves a variety of medical purposes. Whether you've suffered an injury to your nose or sinuses, or you have a birth defect, a rhinoplasty can provide considerable relief. At Elite Facial Plastic Surgery, we've used rhinoplasty to help many people with their medical issues, and we can do the same for you.
These are some of the medical concerns we can resolve through a rhinoplasty procedure.
A deviated septum occurs when the thin wall of tissue between your nostrils is displaced, protruding towards one nostril instead of falling evenly between both of them. This can create a litany of health concerns, including difficulty breathing through the nose, frequent nosebleeds, and recurring sinus infections. A rhinoplasty can remedy a deviated septum, straightening the tissue between the nostrils and relieving the assortment of issues created by the condition.
Cleft lip is a birth defect where a baby's upper lip doesn't form completely, resulting in an opening that can sometimes be so significant that it affects the shape of the nose. Individuals with cleft lip may experience nasal airway obstruction, and have general insecurities about the shape of their nose, both of which can be solved by a rhinoplasty. Similarly to rhinoplasty for a deviated septum, individuals with cleft lip should be able to breathe easier and sleep more peacefully once the procedure is complete.
The nostrils and sinuses are sensitive, prone to disfigurement and structural abnormality. Fortunately, a rhinoplasty can solve a wide range of nasal issues caused by the structure of your nose. Whether your nose was severely injured in a car accident, or you have some other kind of birth defect, Elite Facial Plastic Surgery can provide the relief you need.
Nasal inflammation is something many people experience, often due to a cold or allergies, but chronic inflammation can be incredibly disruptive and negatively affect your health. If your chronic nasal inflammation is caused by growths in your sinuses, a rhinoplasty may be able to provide relief. By removing these growths and making any necessary adjustments to the structure of your sinuses, the frequency of your nasal inflammation should reduce significantly.
Double Board-Certified

Facial
Plastic Surgeon in Tampa, FL
Board certified in both facial plastic surgery and otolaryngology (head-neck surgery), Dr. Dominic performs cosmetic and reconstructive surgery of the face and neck exclusively. His rhinoplasty expertise and exceptional outcomes earned him the 2019 Top Doc and 2022 Top Doc award for facial plastic surgeon in Tampa by Tampa Magazine.
Rhinoplasty Cost in Tampa
A rhinoplasty in Tampa, FL costs around $9,000 to $12,000. The cost of the procedure is heavily dependent on the complexity of the surgery, which relates to the type of nose job you need. The cost of revision rhinoplasty starts at $12,000 and depends heavily on the complexity of the procedure. Rhinoplasty isn't covered by insurance, so any cosmetic nose job will likely need to be paid out of pocket.
While the cost of a rhinoplasty is often a factor that determines which facial plastic surgeon you choose, it shouldn't inform your decision. Factors that more accurately represent your satisfaction with the procedure include the following:
For a more accurate estimate of your rhinoplasty cost in Tampa, schedule a complimentary consultation at Elite Facial Plastic Surgery today. There's no pressure. We're here to help you make the decision that's right for you and get you the natural results you desire.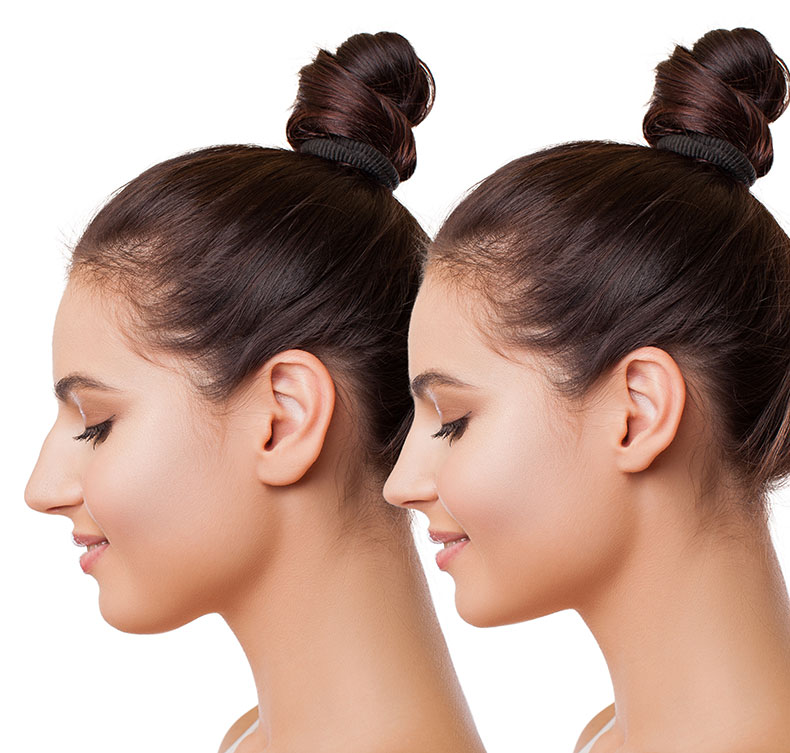 Each rhinoplasty procedure is unique to the type of nose job you receive. It could involve adding or removing cartilage and bone, shaving excess cartilage, or resetting the nasal bones, and more. During a consultation with Dr. Dominic, he will personally examine you and explain the specifics of your unique rhinoplasty in Tampa.
The procedure can be done under IV sedation or general anesthesia. Additionally, there are two techniques for rhinoplasty, regardless of what nose job you receive: open vs. closed rhinoplasty.
Open vs. Closed Rhinoplasty
Open and closed rhinoplasty are the two different types of rhinoplasty techniques as they relate to incision placement. An open rhinoplasty includes an incision on the columella, the bridge of skin between the nostrils. This provides more access and visibility to our facial plastic surgeon, which means for more extensive correction, an open rhinoplasty is the best technique.
A closed rhinoplasty is less invasive, with all incisions found inside the nostrils. This ensures that there is no visible scarring, but it reduces the visibility of the surgeon. Simpler rhinoplasty procedures are meant for closed rhinoplasties. Dr. Dominic will discuss which is best for your nose job during a complimentary consultation.
Are you ready to enhance your facial beauty and improve your confidence with a rhinoplasty in Tampa?
The exact rhinoplasty recovery time depends on the type of nose surgery you choose, your body's unique healing capabilities, and your diligence to aftercare. However, in general, a rhinoplasty recovery involves swelling and bruising that can take up to a year to fully resolve, with the appearance of the nose nearly healed at approximately six months.
Below, we'll outline nose job recovery week by week, so you know what to expect after your rhinoplasty in Tampa.
The soreness and swelling are at their highest during the first week after your rhinoplasty in Tampa. There may be some swelling and bruising in areas around the nose, such as the cheeks and under the eyes.
You will wear bandages and a stint to support your nose as it begins to heal. Bloody discharge is normal, so we'll tape gauze under the nose. During this time, it's important to take time off work and stay home to rest. Keep your head elevated and avoid any strenuous activities. You can also minimize swelling by using cold compresses during the first 24 hours.
During the second week, you will remove tape at post op day ten.  Most bruising and active swelling will be resolved in two weeks. You can return to work and normal activities while still avoiding any strenuous exercise such as heavy lifting. If heavy lifting is part of your job, you should prepare to take more time off. Typically ten days postoperatively you may return to normal activity.
By the first month, much of the swelling and soreness should have subsided. Now that much of the swelling is gone, you can begin to see the results of your rhinoplasty. While you may still have some swelling, it shouldn't be overly noticeable. 
By month six, you should be able to see a very close image of your final rhinoplasty results. However, it's possible to have some residual swelling in the tip of the nose for up to a year. This will be subtle and nearly invisible to the eye.
What Not to Do

After Rhinoplasty
Healing from a rhinoplasty is a delicate process, and it's important to avoid certain activities so as not to interfere with your final results. If you fail to follow any aftercare instructions, you may need to return for a follow-up procedure to make any necessary corrections. The total recovery time following a rhinoplasty can be upwards of a month, so it's important to maintain a persistent level of caution until your projected recovery period is complete.
These are some of the most common concerns people have following rhinoplasty surgery.
When Can I Workout After Rhinoplasty?
Physical activity is limited following a rhinoplasty, especially any weightlifting or cardio-based workouts. The soonest you can return to light physical activity is 3-4 weeks following your procedure, and strenuous exercise shouldn't be reintroduced until 4-6 weeks after. When you first resume your regular exercise, take care to avoid any possible interactions with your head and face until your nose is thoroughly healed.
When Can I Smile After Rhinoplasty?
Although a rhinoplasty is centered around the appearance of your nose, your smile can be affected by the healing process of the procedure. You may experience slight swelling near your mouth following your rhinoplasty which may make smiling uncomfortable, and any extreme facial expressions may cause discomfort to your nose. This swelling and any latent pain from your rhinoplasty should dissipate within 2-4 weeks, allowing you to comfortably smile once again.
When Can I Shower After Rhinoplasty?
After your rhinoplasty procedure, it's important for your nose to fully heal as much as possible before it interacts with an excess amount of water or other substances that might interfere with any sutures. It's advised that you avoid showering for at least 2 days following your procedure, and when you do, only use lukewarm water. Be sure to use a dry washcloth or put plastic wrap over the treated area if possible.
Schedule a Consultation with Elite Facial Plastic Surgery Today
To talk with Dr. Dominic about your cosmetic goals, the right type of rhinoplasty for your nose, the best technique, and the most accurate cost, schedule a consultation with Elite Facial Plastic Surgery in Tampa today.