Nose Job Cost in Tampa, Florida
The nose job cost in Tampa ranges from $4,500 to $8,000 and is dependent on the extensiveness of your procedure, which often relates to the type of nose job you receive. Rhinoplasty isn't covered by insurance because it's a cosmetic procedure, but a septoplasty, which corrects a deviated septum, is covered by insurance. While cost is often a primary factor when considering rhinoplasty, you shouldn't use it to choose a plastic surgeon. Factors that more accurately represent whether you'll be happy with the results of your procedure include the plastic surgeon's experience, their previous patient results, and their knowledge of the specific type of rhinoplasty you want.
For a more accurate estimate of what your rhinoplasty will cost in Tampa, schedule a consultation with Elite Facial Plastic Surgery today.
What is a Rhinoplasty?
Nose Job Surgery (rhinoplasty) is one of the most popular cosmetic surgery procedures in the Tampa area and the most frequently asked question is about rhinoplasty costs.
This procedure can help enhance your facial features by improving the appearance and proportion of your nose.  According to surveys, the nose is the primary feature that most people desire to change.
Because it is the center of attention, the nose stands out especially if it is out of balance with the rest of the face.  For those considering nose job surgery, there are several factors that add to nose job costs that should be measured prior to booking a procedure.
Rhinoplasty Costs Depend on the Procedure
There are several different ways to change the shape or proportion of the nose, so plastic surgeons in Tampa actually offer a variety of rhinoplasty procedures.
A nose job can be completed through surgical and non-surgical techniques.  For some, a non-surgical approach can be beneficial although the results will not be permanent.  A non-surgical nose job is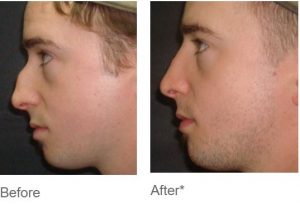 accomplished with dermal fillers to help contour and reshape the nose by adding volume to provide better balance.
This procedure can be done in as little as an hour in a doctor's office and can last up to a year or more depending on the type of fillers used.  For those that want permanent results, a surgical nose job is the only solution.
The costs of a non-surgical procedure are far less than a surgical solution, however a non-surgical approach will require additional treatments over the years to maintain the same look.  This should be taken into consideration and discussed with the surgeon before deciding on the best course of action to craft your ideal look.
How to Evaluate Rhinoplasty Costs in Florida
Once the type of procedure is determined, the most important factor is deciding on the plastic surgeon to do the work.  In many cases, it is best to seek out the best surgeon in the area before even deciding on whether to have a surgical or non-surgical procedure in the first place.
A good facial surgeon is often the best person to make recommendations on the benefits of each available option.
According to Dr. Dominic M. Castellano, a board-certified facial plastic surgeon and expert on rhinoplasty, "the decision to have a surgical vs a non-surgical procedure can depend on many issues including the severity of the flaw to be corrected, the reason for seeking the improvements and the costs of the procedure relative to the long-term outcome." He recommends setting a consultation with a plastic surgeon for an evaluation to learn the details of each option.
Nose job costs can be discussed in greater detail so the patient has all the facts prior to scheduling.  "There are some conditions that cannot be repaired through non-surgical means, such as reducing the overall size of the nose, but many that can be corrected with fillers if the desire is to look better for a specific event or timeframe."
Seek Quality First Rather than Discount on Rhinoplasty Costs
The nose is one of the more difficult areas of the face on which to perform surgery, so make sure to seek out the very best facial plastic surgeon for the job.
Done correctly, a nose job can help you balance your facial features in a way that looks entirely natural.
A poorly done nose job is difficult to correct once completed and a botched surgery will be quite noticeable.
Do your research to find a well-qualified, board-certified surgeon with many years of experience in rhinoplasty surgery.  Ask questions to get the all details on how the surgeon intends to accomplish the corrections and request before and after pictures of previous patients to see the results.  Request information on where the surgery will be performed, how the anesthesia is done and also ask about any additional costs beyond the surgeon's fee.
All surgery should be performed in an accredited medical facility and a credible surgeon will be upfront about all the nose job costs prior to setting a time for the surgery.  If you feel you are not getting all the facts, keep searching until you are comfortable with all the answers.
Elite Facial Plastic Surgery is a fully accredited medical facility located in Tampa, Florida. Dr. Dominic M. Castellano is a highly respected and experienced plastic surgeon with years of skill in rhinoplastic surgery.  He is also double board-certified.  The medical team is highly trained and specializes in both surgical and non-surgical cosmetic procedures.  If you would like to schedule a complimentary consultation with Dr. Dominic, please call (813) 975-3223 or go to our website to request an appointment.